For few days now I've been searching shoes for the wedding. I've checked Polish, German, Finnish, American and British internet shops, and also Ebay and even Amazon. So far I did not have luck. It might be though that I'm
juuust a little bit
too demanding. As you already know I wanted our theme colour to be mint, and so I've developed an obsession of mint green shoes. Right now as it is/was kinda trendy color, it should not be so difficult. But I still could not find shoes that would be the perfect shade. And on the computer screen it is pretty hard to evaluate whether the colour is the correct one. They should also have some kind of glitter, diamonds, other decoration that would make them special.
What I could not decide yet is if I want heels or no heels. The rational side of me says no heels - I'm not used to wearing high-heels, and in the garden they would definetely not be the easiest choice. So ballerinas? Or some pretty sandals? It seems to be hard to find fancy enough flats. Now that I have my princess-dress the shoes should be "on the same level". My first idea of simple Greek-style sandals of course won't fit anymore. As I feel that the dress is very feminine, heels would feel appropriate and also more "festive" than ballerinas that I use almost every day. But with heels I don't mean moderate wedding shoe heels, but really high ones. I don't usually like heels that are less than 8 cm. :D
I was also thinking that maybe I would be able to make some DYI decorations if I would find simple ballerinas/high-heels in the right color.

I found unbelievably pretty ballerinas with handmade decorations from Etsy...

www.etsy.com/shop/BeholdenBridal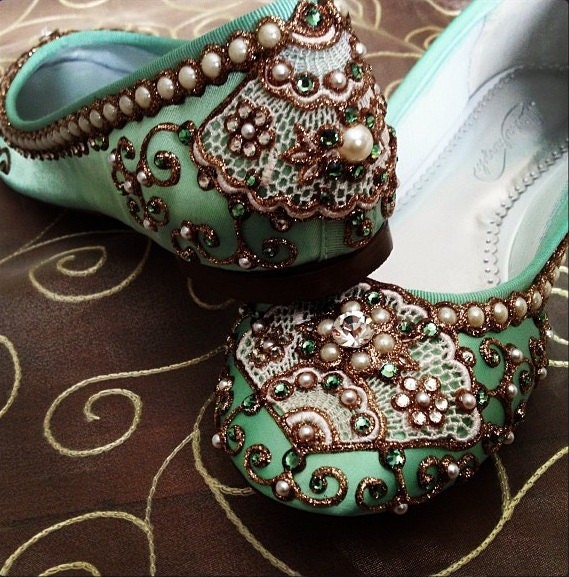 www.etsy.com/shop/BeholdenBridal
...but unfortunately they are waaaay out of my budget.
These Tamaris pumps would be nice with some decoration, and they even have reasonable heels. But I'm not completely convinced of the color (too light?)...
Tamaris
Or maybe I will do something "crazy"
and, ah so trendy
and go with these :D
converse.com
Anyway, I'm still waiting for the right ones, so if you have any ideas where to look, tell me! :)
And I know, I have time...